Reviews
Absolutely fantastic service from start to finish. My son knew what colour mix he wanted but didn't have a clue on design - but using some other helmets as inspiration, Dylan put a mock up together that he loved. We got the helmet sent straight to him, and then received regular updates on progress meaning that no more than a couple of days went by without a picture to show an excited Cadet kart racing driver how it was coming along. If you want to get a helmet painted and are checking out options - then don't hesitate to call Dylan to get him to do the job. The standard of the fjnal product from Dr Kolor is second to none.
Damien Gillman
Great airbrush and would recommend to anyone.
Paul Ramsbottom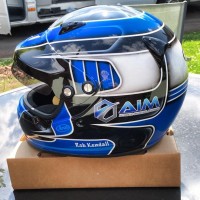 Great to deal with and a fantastic paint job. I'll be back for more.
Rob Kendall
Well chuffed with the job done on my helmet, will definitely be having another done.
Brendan Mallinder
Was really pleased with my helmet, great guy, kept me posted of progress all the way, great talent.
Highly recommended!
Gavin Kirk
Cheers drkolor top man, brilliant work and will definitely be back!
Aaron Stone
Fantastic service, couldn't recommend highly enough!! Cheers mate.
Nick Weston, NW Racing
Really pleased with my custom lid , it arrived back yesterday b4 Christmas, what a cracking job from start to finish from design to reality, can't wait for the bike to be painted to match, would recommend and have recommended to people. Great work
Ollie Lewin, Premier Motorcycle Service & Repair
Big smile today. Really love the new painted helmet. Great communication, nice bloke. Definitely highly recommend 10/10
George Wilkins
Legend. My lid looks awesome. Thank you.
Matt Parkes
Thanks for transforming my boring white helmet into a master piece! You made the whole thing very easy with your great communication and also giving me updates as you went through the process. Very talented at what you do and would recommend your services to anyone looking to have your helmet re-designed. Thanks again and now got to make sure I don't scratch it!
Paul Collinson
Amazing is not a big enough word.. We are so pleased with the transformation of the helmet. Excellent communication from start to finish.. And most importantly I absolutely blew my fellas socks off with this years Christmas present.. No idea I had stolen his plain black shark helmet from the garage . Had it customised to match his prize possession Lambretta " Eleanor "the street racer gone in 60 seconds.. THANK YOU SO MUCH !!!!! Race helmet next
Jane Barton
Absolutely top job from Dylan!! Great experience from concept to completion - would highly recommend!
Giles Day
Top bloke who turns out brilliant work in super quick time would 100% recommend him to anybody looking to get their helmet painted.
William Lawrence
Did my kart racing helmet , excellent service from start to finish ,came up with many designs and got it bang on :) would happily recommend to anyone.
Jordan Bailey
Dr Kolor painted my son's helmet made a fantastic job very good quality!
Jonathan Wroot
Always a top job, love the work and quick turnaround!
Carl Stevens
Excellent service from the start, great turn around time and excellent results. Will be buying plain helmets in the future for Dylan to work his magic. Thanks again.
Vaughan Buxton
Really happy with my helmets that I had done his work is mega!
Oliver Dean Charlesworth
Bloody excellent and quick turn around !
Rob Spink
Superb job, great communication, and a jolly nice fella too!
Helped us with the design, visor choice etc.. Would highly recommend!
Rich Williams